---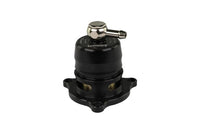 Turbosmart's Kompact Dual Port for the 1.0-litre EcoBoost is a billet aluminium replacement for the Fiesta's factory plastic BOV.

The Dual Port is a 50-50 recirculation/vent-to-atmosphere valve for that classic vent-to-atmosphere BOV sound at high boost and quiet operation at low boost. 

The standard bypass valve on the 1.0-litre EcoBoost engines is a weak, plastic, diaphragm-type valve - a type of valve with a track record of failures. Turbosmart's billet aluminium replacement is manufactured with precision, designed for unlimited boost holding capability, excellent response times and heavy-duty reliability.

Installation is straightforward, and the valve is a direct bolt-on replacement for the factory valve. No special tools are required, and all necessary hardware is included.

The Kompact is precision machined, hand-assembled, and individually tested in Australia to the highest quality standards.