---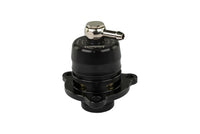 Turbosmart's Kompact EVR06 blow-off valves offer Mini owners the benefits of an aftermarket blow-off valve with the ease of a direct OEM replacement, offering improved boost response, better valve performance and race-proven durability. These new valves fit the 2006-2013 Mini Cooper S and the 2010-2013 Mini Cooper JCW.

Turbosmart's Kompact EVR06 is a high-performance replacement for the Mini's standard plastic blow-off valve. Standard plastic bypass valves like those fitted to the Cooper S from the factory struggle to withstand increased boost pressures. Their plastic construction fatigues with the heat of the turbo and eventually crack.

The Dual Port is a 50-50 vent-to-atmosphere/recirculating valve. It combines the responsiveness and of a recirculating valve with the high-performance sound of a vent-to-atmosphere valve.

The Kompact's billet construction and precision-matched piston ensure excellent boost-holding ability, combined with fast response and unsurpassed durability.